TITLE
Workplace Challenges That HR Professionals Face in the First 90 Days
Congratulations – you've got the top job you've always wanted. But now's the hard part: being a success.
Every new starter wants to make the right impression and get their tenure with their new organization off to the best possible start. But when you're moving into a new HR Manager role – especially if it's your first time in top-tier HR – the stakes are even higher.
Human Resources on its own is gaining focus, momentum, and importance in relation to an organization's success as a business competitor and employer. With changing business models and the industry, HR has now become the prime focus for most organizations, small or large, especially now when the focus has shifted to the people because people are the most important asset of an organization and have the power to influence its growth and success substantially.
For an effective HR management system, the challenge of HR is to make sure that the time, money, and resources of the organization are well-spent. Furthermore, to make sure that employees have the required resources to perform their best and reach their highest productivity levels.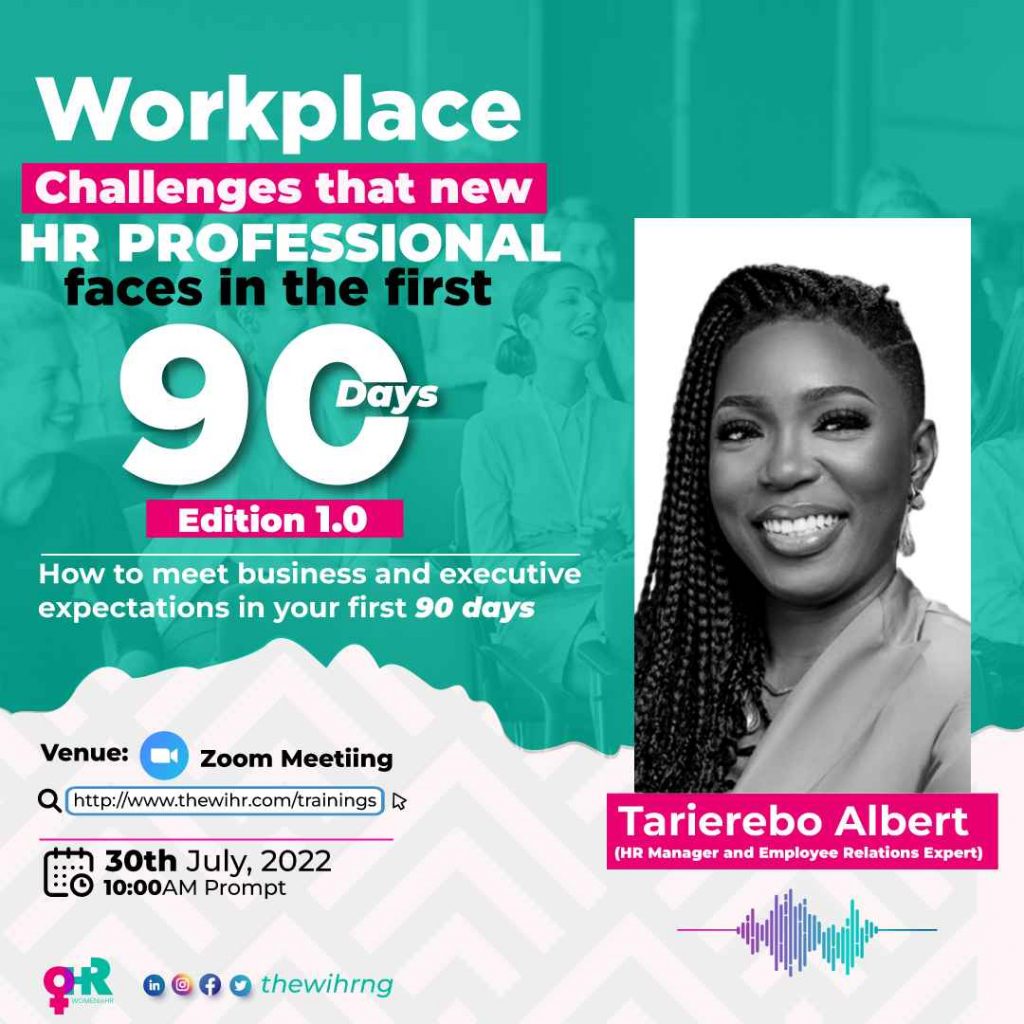 In this training we will be looking at three broad category of challenges and how to deal with it
How to confidently start your first 30 days as a new leader, so that you hit the ground running with your new team
What to focus on as a new leader in your first 90 days in the role
Practical solution to HR Challenges in the workplace either as a new HR Manager or a long term employee
Navigating your way to the top of the HR Ladder
Name -TARIEREBO ABBIYESUKU-ALBERT 
Title – HR Manager, Employee Relations Expert, Organization Development & Change Management Expert.
Tarierebo B. Albert (Tari), is an outstanding blend of resilience, brilliance, versatility, and grace. A Human Resources Professional with a robust Health and Safety background whose experiences have positively impacted the Employee-Employer relationship of several organizations and in turn improved individual and organizational performance and success.
She is a seasoned and skilled HR professional with over 10 years of experience in the Oil and Gas/Energy, Health, MicroFinance, Engineering (Forklift Operations with FMCG), Automobile/Automotive Industries.
She is a certified Professional and Senior Professional in Human Resources from the Human Resources Certification Institute (SPHRi, HRCI). 
She currently works with a staff strength of over 300 employees. A few of her skills span into Employee Relations, Compensation and Benefits, Employee Recruitment, On-boarding and Integration process, Career development, Employee Assistance Program (EAP), Contract and Negotiations. 
As a Human Resources Professional and Leader, she consciously understands the strategic goals and objectives of the organization and aligns those goals with relevant HR goals and objectives to achieve the overall success of the business. 
She is a lifetime member of the PSI CHI – The International Honor Society In Psychology and has certifications in PHRi, SPHRi, HSE 1-3, NEBOSH IGC, Occupational Health& Safety and Certified ISO Internal Auditor.